Durham West Girls Hockey Association: Rep Tournament
Durham West Girls' Hockey
21st Annual Rep Tournament
February 12th-15th, 2015


Sanction Number - 1415067


(Local Teams Only on February 12th)
*** 4 GAME GUARANTEE ***
(All Rep Divisions and DS)
Midget AA, Midget A, Midget BB,
Bantan AA, Bantam A,
Peewee AA, Senior A
12-15-15 $1200
All other divisions:
10-10-12 $975
To those teams that are playing in our 21st Annual Rep tournament next month, thank you very much for registering. The tournament will take place on Feb 12,13,14 and 15.
We have 19 divisions with over 100 teams entered. With almost half the teams travelling in for the tournament, it is impossible given a four game guarantee to not schedule games Friday morning.
Please be prepared to play Friday morning.
Best of luck in the tournament.
Any questions regarding scheduling can be sent to
ice@dwgha.com
.
All tournament payment should be made payable to 'Durham West Girls Hockey Association' and mailed to:
DWGHA Rep Tournament
789 Millbank Road
Pickering, ON
L1V 3L6
Once registration is complete and cheque received, a Tournament Committee member will email you and confirm your acceptance.
To book hotel accommodations:
The success of our tournaments relies heavily on the combination of great volunteers and partnerships established with our sponsors. HTG Sports is the exclusive travel partner for our annual tournaments. One of the criteria for acceptance into our tournament is that any team requiring hotel accommodations must secure through HTG Sports. HTG Sports has secured blocks at the participating host hotels. We thank you in advance for your support. Please click logo to book hotel: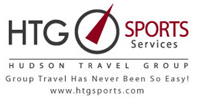 SCHEDULES, SCORES & STANDINGS